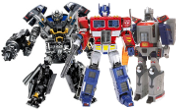 Thanks to Planet Iacon we can bring you a collection of images of new toys which were revealed at the Tokyo Toy Show. The images, which can be viewed below, include AM-15 Dark Megatron, Terrorcon Bumblebee, Battle Shield Optimus Prime, the Jet Vehicon and a Voyager class Starscream figure from all from Transformers Prime. On a Lucky Draw side, the gold Transformers Prime Optimus Prime figure was shown along with his microns.
Also shown at the event were Masterpiece Starscream, Soundwave, Sideswipe and Red Alert. As we all know now, Soundwave comes with several cassettes but what was shown at the event was that Red Alert comes with "short-circuit sparks" which clip onto his head in robot form. Click the headline to view ALL of the images of the Masterpiece figures
Finally, the Kabaya Kit Fortress Maximus was also shown.