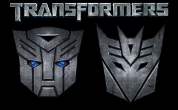 Well the cats out of the bag as Hollywood Reporter are reporting that Paramount Pitures are teaming up with Hasbro Inc to create a Universe based on five of Hasbro's properties Transformers, G.I.Joe, Micronauts, M.A.S.K, Visionaries and ROM.
Transformers and G.I.Joe have already had live-action films with Micronauts being in the work for a long time and Visionaries being planned for revival for over 5 years (we broke down the state of Visionaries over on TheVisionaries.net a while back). A reboot of M.A.S.K has also been in the work for ten years with the original order of brand release set to be Transformers , G.I.Joe, Micronauts, M.A.S.K and Visionaries, ROM we don't know about.
According to the report Paramount Pictures are announcing a new deal with Hasbro on Tuesday that will see Paramount and Allspark Pictures, Hasbro's film label, build an interconnected, cross-property onscreen universe, featuring characters from five of Hasbro's other brands: G.I. Joe, Micronauts, Visionairies, M.A.S.K. (Mobile Armored Strike Kommand) and ROM.
The site goes on to state that Allspark Pictures will produce the films with Brian Goldner (President and CEO of Hasbro), Stephen Davis (Exec VP and Chief Content Officer) and Josh Feldman (head of film development) working with Paramount Pictures to shape the universe.
You may wonder how these brands will be able to work together, well it's actually a pretty easy process. M.A.S.K, G.I.Joe and Transformers can all take place on Earth with the first two lines easily crossing over and the latter having a 30 years history of collaboration. Visionaries can easily take place on an alien planet that the Transformers could visit perhaps even playing a part in the Great Cataclysm though on a world where technology has failed they may well fit into some of the original mythology for season2. ROM again could also cross over with Transformers for an adventure in space whilst the new Micronauts film, originally with JJ Abrams on board, was planned as being a Transformers prequel anyway .
Expect more on this story in the coming days, weeks and months.
EDIT - Whilst the article does not directly suggest that Transformers will be a part of this on-screen universe, Micronauts has already been mentioned various times as being set within the TF universe and it makes joining the brands far easier to do with a race that can travel the stars