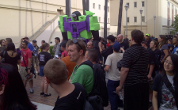 Roll Out Roll Call, the Transformers and G.I-Joe show, have announced more guests for the event taking place in October here within the UK.
First up comes the announcement that Gary Head from Joe Declassified will be attending the show and holding a special panel
"Attending Roll Out Roll Call, The UK Transformers, G.I. Joe & Action Force Show for the first time, we are hugely privileged to welcome Gary 'Gyre-Viper' Head on behalf of Joe Declassified. Expect to see an amazing panel, packed full of pre-production and behind the scenes information into the creation of the G.I. Joe toys. The Joe Declassified Booth is one of the highlights of GIJoeCon (Official), put together by a team of contributors dedicated to preserving the knowledge of G.I. Joe toy history."
Next up is the announcement of a new 3rd Party panel held by the UK's own Cassy Sark and Ceno Kibble. The pair have worked wih various third party companies designing many of the more popular 3rd party figures. The pair will be holding a new panel for the show which will follow on from their TFCon and Auto Assembly panels which both went down a storm. So for the latest in 3rd Party news, make sure to attend the event.
"This years Roll Out Roll Call, The UK Transformers, G.I. Joe & Action Force Show will feature a special "3rd Party Panel" hosted by Cassy Sark and Ceno Kibble, who have worked extensively with various 3rd party companies.
Cassy Sark is the conceptual designer behind Feral Rex, Hexatron, Citizen Stack, The Air-Raptor Squadron and the upcoming Overlord analogue for Mastermind Creations.
Ceno Kibble is a creative consultant and editor / writer, having written the entire Reformatted line for MMC and several dozen toy biographies.
At this unique panel, Cassy and Ceno will go behind the scenes to show you an exclusive peek into the design process from conception through to release."