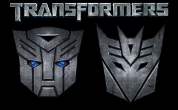 Paramount Pictures have changed the release dates of both the Australian and Egyptian screenings of Transformers: Age of Extinction. The Australian date has been bought forward to the 25th June 2014 with the Egyptian release now being bumped even further to the 23rd June making it the first country to have the film released!!
You can check out the new release dates on the official website.
In related news it appears that Paramount Pictures are not going to be running any advance, FDA or advertiser / sponsor / licensor only screenings this year here within the UK. Normally this is a sighn that the stuio have low expectations for a movies release, but it may also simply be down to the World Cup.