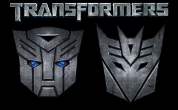 Paramount Pictures have begun casting for the new lead roles in Transformers 4 which is currently being referrered to simply as the "Untitiled Transformers Sequel" by studio representatives. Filming for Transformers 4 will begin in April / May 2013 with an aim for a June 27th 2014 release. The casting call being published over on acting-auditions.org.
The casting call asks for a lead female role (18 or over) who can play "high-school senior age" as well as a male who will play her on screen boyfriend who is a Texas race car driver in his early 20s.
The screen play is once again by Ehren Kruger (Revenge of the Fallen and Dark of the Moon).