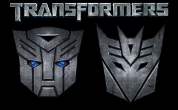 Nelson, the Site Admin of Michael Bay's Shoot For The Edit website, has posted some new info on the Transformers: Age Of Extinction including confirmation that the "bearded robot" who's face was seen on a pole, will be Hound.

"I like how Bumblebee looks like in robot form this time around. He looks badass and sleek.

The Stingray is one of my favorite looking robots.

So is the Bugatti. Wait til you see this guy in action. He will blow your mind!!

And Hound reminds me of the bearded chubby fellow in Braveheart. He might take the cake when it comes to personality."