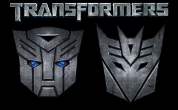 Here is a quick catchup on the Transformers: Age of Extinction news from the last few days.
The Facebook page of TransformersCars.com have posted a series of images of the TF4 crew member's hoodie which appear to revealed the robot mode for Grimlock on the back. The design for the robot mode of Grimlock is in keeping with the more medieval look that Transformers 4 is going for which is a theme, we are told, will carry over into the action sequences of the film.
Entertainment Tonight have posted two videos relating to Transformers 4 that reveal the name of one of the new characters as well as some hints at possible plot devices. You can view the first video here and the second video here.