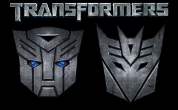 Hasbro's Transformers Site has updated with a news item about the previously seen metallic
T ransformers Movie Voyager Megatron and Ratchet toys. The toys go on sale today in the US exclusively at Best Buy.
Hasbro states that it will "be taking several of the best Transformers Movie toys from all the size classes (Deluxe, Voyager and Leader) and giving them the same metallic finish and display box treatment as a part of a Premium collector's line."
No details on the figures are announced, though it would make sense to be the toys from the actual film.
Thanks to TFWorld2005 for the report.