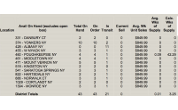 The Hong Kong Toy fair has now finished and whilst Hasbro were reportedly not at the event, there were some Transformers licensed products on display. One of these products were licensed replica polyresin (ABS) statues of Transformers Movie Optimus Prime and Bumblebee along with a prop-replica of the Allspark from FMC. Atamaii TV Blog were in attendance with their reporter Stu Carter recording a video introduction by FMC representative Mike.
The statues are Asian exclusives, are articulated and come with interchangable accessories. Mike explains in the video that the Bumblebee figure is to scale with the Optimus Prime statue which is why he is smaller with Prime standing at 20" tall and Bumblebee who is 14" tall.
The figures are on the expensive side with Optimus Prime retailing at $1,699 (that is USD not HKD) with Bumblebee being $1,399.
The Allspark cube is made to scale for the film and costs $299.
The first run of both the Optimus Prime and the Bumblebee statues have now sold out within Asia with FMC looking to produce a second run. You can view a video below.