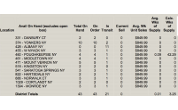 The latest issue of Figure King Magazine shows some of the upcoming Japanese Transformers releases which include a remoulded Age OF Extinction Optimus Prime and redecoed Generations Arcee and Chromia who are now coloured closer to their Generation One cartoon forms as well as a Windblade figure whose paint apps are closer to Sarah Stone's IDW comics artwork.
There is also a picture of the box for Masterpiece Bumblebee though the image is rather low quality and small.

Credit to TagHobby for the Figure King images.