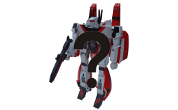 Let the rumour mill start running riot again as when asked if Tigertrack was the e-Hobby announcement he teased Hydra has replied "Paul nope! Tigertrack is a great character choice though!". So if Tigertrack is not the announcement what will it be?
Masterpiece Deepcover and Clampdown?
More Shattered Glass recoloured Generation One figures?
Masterpiece Bluestreak?
Stay with us as we will keep you updated on all of the happenings.