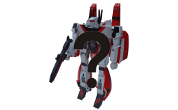 Australian Transformers fansite Ozformers are reporting that Hasbro may be releaseing Masterpiece Soundwave within Australia, via Toys R Us, as well as a new Masterpiece figure in the form of Acidstorm, a green recolour of Starscream. The news came about when Ozformers member Ultra Mackness contacted Hasbro Australia's customer support asking about a possible Australian release of Masterpiece Soundwave and was told that Soundwave would be released in Toys R Us in July 2013.
Having received this replied another member, Griffin, then proceeded to contact TRU to ask if other Masterpiece figures were listed within their system. They replied to him stating that they had a listing for a Masterpiece Acidstorm. If true, then this figures will also be released within the US with a very small chance that we may see them in other territories in 2014. Below is a copy of the original communications.

Ultra Mackness:Okay so to help me make a decision about whether I give Takara my cash for MP Soundwave, I decided to email Hasbro about whether there will be a Hasbro release of MPSW or not and just got this reply:
"Hi Michael, I am sorry for the delay in responding. I have checked with a colleague who specializes in Transformers. He has confirmed that the Masterpiece Soundwave line will be sold in Australia through Toys-R-Us, but not until July 2013. They are expected to sell in Toys-R-Us from July to September. Kind regards, Hasbro Consumer Services"

Griffin wrote on the Ozformers board: "As mentioned in the Hasbro MP Soundwave topic (which is now confirmed to be coming out in mid-2013), I asked ToysRUs if any more Masterpiece toys are in their system, hoping it was Sideswipe.... but no, a different Masterpiece toy by Hasbro is coming to ToysRUs at the same time as Soundwave..... Acid Storm. A green Starscream redeco, to add to the Masterpiece seeker squadron. Priced at AU$100, it is $20 more than Thundercracker... so could have a similar price increase in America. Considering how many Masterpiece toys are coming out of Japan at the moment, I was not expecting Hasbro to release one that Japan hasn't done (yet). Acid Storm was a classic-verse toy/character that didn't get released in Japan either, so maybe this MP toy is a Hasbro exclusive as well."