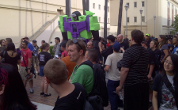 So BotCon had several panels yesteday, so here's a round up
Fun Pubs - Transformers Collectors Club Round Table
This presentation showed off some of the toys for the Fan Subscription service 3, as well as talking about production problems with Scorponok from this years BotCon set.
* Generation One Krok from Generations IDW Megatron (sports a new head and comes with Gatoraider, a redeco of the crocodile Arms Micron)

* Generation 2 Starscream from Classics Starscream

* Nacelle from the Classics Seeker mold, this toy has the Starscream head but with Thursts wings and is painted like the original concept toy (red, white, blue)

* Serpent O.R. from Takara's Generations Ratbat (who is G.I. Joe Serpentor homage and an homage to Devils Due Comics' GI Joe vs. the Transformers crossover series)

* Zap with G.B. Blackrock from Generations Bumblebee mold and is an homage to a canceled Block Town toy line that Takara was going to come out with in 1995. Blackrock is a Kreon companion for Zap.

* Tarantulas from the Junkion mold, and will be accompanied by Prime Airachnid's Arms Microns

A seventh mystery figure to be shipped with the sixth and final figure.