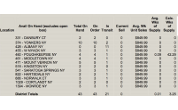 TakaraTomy are putting some limited edition (100) signed prints of the original boxart for Convoy (Optimus Prime) drawn, and signed, by Shin Ueda 上田 信(うえだ しん)
http://takaratomymall.jp/special/tfart/
About the Artist (very rough translation via Google Translation, as i've run our of time to translated it)
Born in 1949 Aomori Prefecture village Yomogida
learn drawing five years as apprentice at the end of the KOMATSUZAKI Shigeru, then, employment in the model gun manufacturer MGC Propaganda Department, and as an independent illustrator two years later. Continue drawing activities mainly on military primarily related to, but drawn and package art many, regardless of genre or manufacturer.
To machine the deployment of Japan "Super Robot Life Transformers", worked on box art of "Total Commander Convoy" in 1985, and key visual of scrambled City and the second phase key visual, then also, the Transformers character of many painted.
Have a good reputation for precise depiction of weapons and battle scenes drawn by Ueda, I have conducted numerous illustrations of the product package and illustrations of current magazines. The technique has announced the world a wide range of works of manga precision painting, children's illustration, line drawing by a wide-ranging, using the airbrush from the picture story inherit KOMATSUZAKI style.
Details
Price: 31,500 yen (tax included) (around £200)
Product contents: Original framed pre-replication (commentary card pack)
Framed size: W530mm × H450mm
Framed Specifications: wooden black frame framed
Limitation: 100 points
Tuesday 13 am to start September 10, 2013: order accepted
Reservation receipt end: October 10, 2013 (Thursday) 13:00
Scheduled late November 2013: product shipment