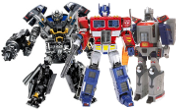 Thanks to Nevermore who has reported findings of figures who were previously revealed via the RiID mobile game. He found listings for Titan Guardians Grimlock at Extra.com.br, Pontofrio.com.br and Cdiscount.com.br along with Titan Guardians Strongarm at Extra.com.br, Pontofrio.com.br, Cdiscount.com.br and Amazon Canada. The well known German fan also found new images of Stealthsaurus Rex Grimlock at brandora.de.
Not to be out down Hasbro have updated their official Transformers site for Poland with new images for Mini-Cons Scorch Strike Jetstorm, Ransack, Glacius who are all part of the fourth wave of Robots in Disguise Mini-Cons.
Meanwhile thanks @TFYuki on Twitter, we have a fresh look at the Transformers Adventure release of Megatronus. Out now in Japan, Megatronus is sporting a premium deco compared to his US release counterpart. This is particularly evident with the extra paint used on the weapon and the vents on the knees and cannons. Hisashi Yuki on Twitter has also posted another image of the upcoming Unite Warriors version of Galvatronus.
In other product news Big Bad Toy Storehave posted a new case breakdown for thhe Combiner Wars Deluxe Wave 6 / 2016 Wave 2 cases which show a change in the assortment so that both Hound and Trailbreaker are dropped from the case with Wheeljack and Smokescreen reduced to one per case. The remaining six slots in the case are taken up by the Combaticons – one each of Vortex and Blast Off, and two of Brawl and Swindle. This makes the full case break down as follows:
1x VORTEX
2x DECEPTICON BRAWL
2x SWINDLE
1x BLAST OFF
1x WHEELJACK
1x SMOKESCREEN