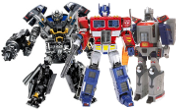 The Planet Iacon Facebook page has shared several images originating from the Weibo account of @GRAVE. These images show upcoming Titans Return figures. In this batch of leaked figures we have the following characters:
Sixshot (Class unknown)
Hot Rod (Deluxe Class)
Optimus Prime (Voyager Class?) - Comes with Star Convoy head and appears to also be a homage to G2 Lazer Rod Optimus Ptime

Megatron (Voyager Class)
Mindwipe (Deluxe)
Triggerhappy (Deluxe)
Wolfwire (AKA Weirdwolf – Deluxe)
Doublecross (Deluxe)
Getaway (Deluxe)
Most of these leaked figures are coming from internal color guides, with some images even still stating "design TBD".
You can view all of the images after the jump.