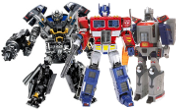 Thanks to Alfes2010's toyblog and Australian Transformers site Ozformers new in-hand images of the Transformers Adventure Phantom Jaw (Japanese Transformers Robots in Disguise) and Transformers Robots in Disguise Megatronus (5 step changer) have been posted on line.
Alfest has posted images and a write up on Phantom Jaw, the Japanese recoluor of Steeljaw who featuers far more paint detail than the original toy, on his blog
Strongarm was startled, since the car approaching with its sirens on was Decepticon Phantom Jaw. Phantom Jaw transformed immediately and attacked Strongarm. As a very competent intelligence officer, Phantom Jaw took the opportunity once he heard there was an opportunity to act solo against a member of the Autobot. However, after she was caught off guard, Strongarm begin fight back when she regained her posture. Having fought together with the first class warrior Bumblebee, she has grown by leaps and bounds.
Mean while TFW2005 are hosting images taken by the Ozformers owned of the 5 step changer of Megatronus. The toy towers over most of the other Robots in Disguise toys.