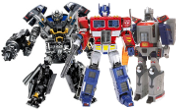 Morning,
We have recently released our SDCC 2016 Exclusive lines to general sale, as previously these were only available at the recent London Film and Comic Con. Please see our press release below. I am hoping that this news is of interest to you and that you would share this with your followers. If I can supply any further information, please feel free to reply to this email.
"We are proud to announce that after the success of London Film and Comic Con, A1 toys in association with Hasbro are now releasing the final stock available of our San Diego Comic Con 2016 Hasbro Exclusives.
Being collectors ourselves we share your excitement in this news and hope that everyone gets a chance to own one or all of these fantastic collectibles.
The SDCC 2016 Exclusives listed below are now available from www.a1toysexclusives.com or www.a1toys.com whilst stock last.
Star Wars 6" Black Series Obi Wan Kenobi that includes Princess Leia Hologram with light up and sound features.
Transformers Titans Returns Fortress Maximus.
My Little Pony Discord and Fluttershy twin pack.
Transformers Titans Returns 3 pack including Sentinel Prime, Charon (aka Brainwave) and Windblade.
We are also offering the much sought after SDCC 2015 Star Wars 6" Black Series First Order Stormtrooper again.
Once these are gone, they're gone!"
Regards
James
james.neil@a1toys.com