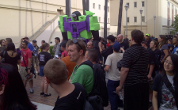 The e-HOBBY + TFCC Collaboration Shattered Glass Soundwave VS Blaster set is up for pre-order from the Transformers Collectors Club now.
e-HOBBY has also posted a packaging sample image of the toys.

On a related note, the Transformers Collectors Club has clarified a few things via their Twitter account regarding the release of this set: The EHobby is not build to order BUT we can order as many as we want. Confused? To clarify, our order has to be in BEFORE the Pre-order period is up on our end. So we could technically run out as we are not going to go heavy on these. We will do a guesstimate based on the first couple weeks of sales. We won't go overboard and cut it way short as we know many will wait till that last week. But we dont want to be way heavy either. So when you are able to, please get your order in.