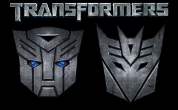 In an interview with
MTV's Brian Warmoth
Hasbro's CEO Brian Goldner told MTV News "
You're going to see that great core mythology brought to the fore, and Michael is hard at work at making this a reality and we're very excited about it ... I mean, I think it's a great time to put it out in 2011 and we're very excited about the movie.
".  Brian also confirmed that Shia LaBeouf and Megan Fox will both return for the third movie before going on to state that "
What we're really doing is getting back to some of the core character development and storytelling. And I think there's some elements of the core story that the filmmakers, Michael in particular wanted to tell, ... He's really well-versed in the Transformers lore. So I think you'll see, you know, less bedlam, more characters.
"