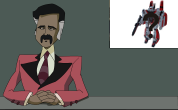 We have found some new trademarks filed with the USPTO by Hasbro Inc. The trademarks are:
You can view all of the details of these and other trademarks within our exclusive Trademark Application area of the website which features trademark applications from 1984 through until the present day.
The last three marks are within the music CD and DVD category where as Vector Prime and Omega Supreme are toy related trademark applications.