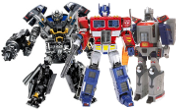 ­eBay seller
­ yayabeee AKA as GenZhao of KOtoys.com, has posted several images on the KOToys forum of some upcoming Transformers Revenge of the Fallen repaints.  The figures shown are:
A Generation One recolour of Voyager Mixmaster complete with a different head mould that was seen on some testshots for the original figure.  You can view images of this figure here. Note that the figure has the marking Ol' Lefty on the cab meaning "Old Lefty" and a reference to Mixmaster being the left leg on the Generation One Devastator figure

The upcoming Target Exclusive The Fallen Burning Edition.  You can view the gallery here.
A deluxe Battle Damaged Sideways.  You can view the galley here.
The figures will no doubt be listed on eBay in the coming days, if they have not already been added since the publication of this story, so make sure to check out his eBay store
­ to view his current auctions