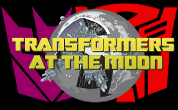 Win a pair of tickets to see Transformers at the IMAX in London!
To help promote the Transformers Movie release onto the IMAX cinemas, Paramount Pictures UK have once again team up with Transformers At The Moon to give you the chance of experiencing the magic of IMAX and Transformers.
The prize on offer is a pair of tickets to see the Transformers film at the IMAX in London on any of the days the film shows (a full list is included below).
To win the tickets simply email transformers@themoon.co.uk with the correct answer to the following question (putting IMAX COMPETITION as the subject).

Q: What ancient artefact are the Transformers searching for?

1) Tutankhamun Mask
2) The Matrix
3) The Allspark
4) Vector Sigma
As the film starts this Friday, 21st, so we'll be closing the competition on Thursday 20th.
Good luck.

Below is a full list of the times which the Transformers Movie is showing at the IMAX in the UK.
Friday 21st September 2007 at 17:00, 20:00, 23:00
Saturday 22nd September 2007 at 17:00, 20:00, 23:00
Sunday 23rd September 2007 at 17:30, 20:30
Monday 24th September 2007 at 17:30, 20:30
Wednesday 26th September 2007 at 17:30, 20:30
Thursday 27th September 2007 at 17:30, 20:30
Friday 28th September 2007 at 17:00, 20:00, 23:00
Saturday 29th September 2007 at 15:00, 20:00, 23:00
Sunday 30th September 2007 at 17:30, 20:30
Monday 1st October 2007 at 17:30, 20:30
Tuesday 2nd October 2007 at 17:30, 20:30
Wednesday 3rd October 2007 at 17:30, 20:30
Thursday 4th October 2007 at 17:30, 20:30
Friday 5th October 2007 at 17:00, 20:00
Saturday 6th October 2007 at 17:00, 20:00
Sunday 7th October 2007 at 17:30, 20:30
Monday 8th October 2007 at 17:30, 20:30
Tuesday 9th October 2007 at 17:30, 20:30
Wednesday 10th October 2007 at 17:30, 20:30
Thursday 11th October 2007 at 17:30, 20:30
Friday 12th October 2007 at 17:00, 20:30
Saturday 13th October 2007 at 17:00, 20:00
Sunday 14th October 2007 at 17:30, 20:30
Monday 15th October 2007 at 17:30, 20:30
Tuesday 16th October 2007 at 17:30, 20:30
Wednesday 17th October 2007 at 20:30