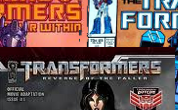 Back in 2004 Simon Furman was writing the comic book adaptation of Transformers Energon for Dreamwave.  Dreamwave went out of business before the final story arch was completed but now thanks Simon, everyone can find out just what he had in store for the characters.
Simon is posting a blog entry a day on Transformers Energon so the first two entries are up.
Yesterdays blog was entitled Energon, Revisited with todays entry called "Doomsday Redux"