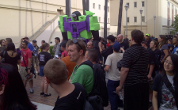 We have created a new image gallery containing the photos which we took whilst at Auto Assembly 2012 last weekend in Birmingham England. The convention smashed it's own previously helpd European attendance record for a Transformers show with the total attendance increasing by over 1/3rd on the previous record to 773.
We would like to thank everyone for supporting the show from the attendees, through the volenteers (who's tireless efforts did not go un-noticed), through the committee members, the hotel staff, the dealers (who cover every line you could think off) and, of course, the guests.
So thank you everyone for making 2012 a record breaking year for Auto Assembly and we hope to see you all next year for Auto Assembly 2013 and, before that, for Roll Out Roll Call 2013.