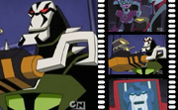 Jim Sorenson has posted a link to a public Google Drive share containing PDF files of scripts that were purchased from Heritage Auctions when Ron Friedman was selling a lot of material from Sunbow. Below is a copy of his announcement via Facebook
So, a few years back, several Transformers fans worked together to buy some Ron Friedman scripts at auction, digitize them, and post them. Since the original postings are somewhat lost to the sands of time, Chris McFeely and I made sure to get them all back up where they should be easy to find. Here's the google drive link:
https://drive.google.com/drive/folders/0BwBhmf92x_UES01QTFNRS1RwSnc
If you've got more and want to share (or just have a good lead), let us know and we'll make it happen.