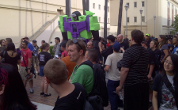 The creative forces being the Ark and Allspark Almanac books, Jim Sorenson and Bill Forster, have now arrived in the UK for the Transformers / GI Joe convention Roll Out Roll Call, which takes place on Saturday the 10th and Sunday the 11th of March.
Joining Jim and Bill will be Larry Hama, Simon Furman, Robert Akins, Andrew Wildman, John Paul Bove, Simon Gough, James Eatock, James Kavanaugh Jr and Gary Godsoe.
As well as guests, there are various presenations including.
Cosplay Contest, Product Showcase by Hasbro UK
Product Showcase by Marauder Gun Runners
Product Showcase by Mastermind Creation
Presentation- Deconstructing Silent Interlude by Larry Hama
Presentation- Transformers from Script to Panel by Simon Furman
Presentation- The History of Action Force by Dave Tree
Presentation - Leave No Man Behind - a look at unreleased Action Force toys by Dave Tree
Custom Competition
Make sure you book your ticket as you only have three days left, or turn up on the with the hope of getting in.