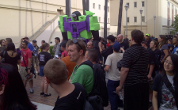 Marcelo Matere has confirmed that he will be at HasCon this coming weekend at Artist Alley booth number 9. Marcelo has worked on toy packaging artwork from Armada through to next years Power of the Primes. You can find out more below
Marcelo Matere - Artist Alley Booth #9
HASCON 2017 Pre-order Commission List

I will be there all the 3 days selling prints, original artwork ( package art and comics), signing and doing sketch commissions!

Since I will be in 2 panels during these days I will have very limited spots for this list.
Please see below the prices:
- SIZE - 9″X12″ Art Board, Sketch Cover or Personal Sketchbook:
- SINGLE CHARACTER minor background
- BLACK AND WHITE - INKS NO MARKERS
Head Shot $50
Half Figure $80 - Extra Character - $50
- INKS AND GRAYSCALE MARKERS
Head Shot $60
Half Figure $150 - Extra Character - $70
Full body: $200 - Extra Character - $80
- INKS AND COLOR MARKERS ( only Pre- List)
Head Shot: $80
Half Figure: $200 - Extra Character - $90
Full body: $350 - Extra Character - $100
For another kind of sketch, please email me with all information and I will send back the price.

If you are interested please email me back with the information below:
- Character
- Size
- Your name
- Day you plan to pick up your sketch

If you are interested, email me at mmatere@gmail.com with the subject: HASCON 2017 Sketch List
I'm gonna take these commissions ONLY BY EMAIL, NO FACEBOOK, NO TWITTER, since this is the best way for me to keep all requests organized.
Please LMk if you have any questions!
Thanks!