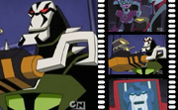 We are back to continue our series of YouTube videos containing deleted and extended audio scenes from the Generation One cartoon series. We'll be releasing two tonight with the first being this 1 minute video from the final part of The Ultimate Doom
This video contains audio that was cut from the Transformers Generation One episode The Ultimate Doom Part 3. The audio has been taken from an original slugged cassette tape from the original recording sessions. You can read a transcript of the dialogue in the description below
The full script is available to download at http://bit.ly/2m4T8Ct thanks to Jim Sorenson and Chris McFeely
########### EXTENDED SCENE ###########
REFLECTOR: Energon cubes secured, leader.
MEGATRON: Excellent. I've left Starscream behind to prepare for the next tidal wave. When its force is harvested, we'll have all the energon cubes we need to revitalize Cybertron completely.
REFLECTOR: What about the flesh creature, Dr. Arkeville?
MEGATRON: He is of no further use to me.
**Note Shockwave's name was added later**
WHEELJACK: We had a run-in with Shockwave, Prime, and couldn't rescue Sparkplug. But we learned how the Decepticons are making Earth people into mind slaves.
OPTIMUS PRIME: That's good news. Do you have any plan to counteract their work?
WHEELJACK: Let's just say we're onto something that looks like a winner.
BRAWN: If it works.
WHEELJACK: We'll field-test it when we take another crack at rescuing Sparkplug.
*NEW* WHEELJACK: In five thousand astro-seconds
*NEW* OPTIMUS PRIME: Good luck, Optimus Prime out.
*NEW* SHOCKWAVE: Prepare the human known as Sparkplug. His Autobot rescuers are in for a surprise!