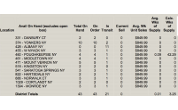 Amazon have updated their site with a full product description and cover for the upcoming Transformers Vault book.  Personally, I pre-ordered the book several months ago as I've been informed, by some reliable sources, that its going to contain some very cool stuff that hasn't been seen before.

Product Description
Officially licensed by Hasbro, Transformers Vault: The Complete Transformers Universe reveals, for the first time ever, a comprehensive history of the transformers. Fans now have a hands-on guide to the epic battle between the Autobots and decepticons, including the toys, the original animated series, comics, collectibles, and merchandise, as well as animated and live-action feature films.

This heavily illustrated book features never-before-seen images from the Hasbro archives, seven interactive pieces of memorabilia, and an acetate slipcase with a unique "morphing" effect. Five visually driven chapters go behind the scenes of everyone's favorite robots in disguise, featuring early animation sketches, interviews with creators, patents, prototypes, action-figure designs that never made it to production, vintage packaging art, and development art from the films.

About the Author
Pablo Hidalgo is the author of G.I. Joe vs. Cobra: The Essential Guide. He is the managing editor for Starwars.com and lives in San Francisco. Hasbro is one of the largest and most successful makers of toys and board games in the world. Hasbro was involved in the development of all three live-action transformers ransformers films.