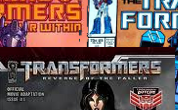 Titan comics have sent out the following preview for the latest issue of the UK Transformers Comic.
­Transformers Comic 2.16 - On Sale 12th August!­
Check out the latest issue of Transformers Comic for action-packed features, games, puzzles, competitions and lots more! Issue 2.16 also includes "Turn and Burn", a fantastic comic story written by Robin Etherington and featuring art from Jon Davis-Hunt. Find out more on the story from the synopsis below and check out the sneak peeks attached!

Turn and Burn
BLAZEMASTER is feeling a little under appreciated when a simple bag and tag, turns into a citywide destruction derby. However, he doesn't have long to brood on his dressing down before the Decepticons return bearing a message.