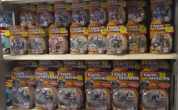 Our thanks go to Pete Brown and Shadowdancer for the following Transformers toy sighting reports.
Shadowdancer reports that he has "just been to Toys R Us and they have in stock Generations Scourge, Sergent Kup, Cliffjumper and Soundwave. I also noticed small 4 figure pack Legends (DOTM) and the massive Sentinal prime, Bumblebee and Prime as of yet no Shockwaves. Also at Toymasters in Letchworth they had a few RTS Windcharger at £7.99 i got two of them."
Pete Brown, on the other hand, has sent in some Tesco sightings and discounted figures.  "My local tesco at Tower Park, Poole is selling all Dark of the Moon deluxes for £8.49 and the Legends size cyber-verse toys for £2.99 each."