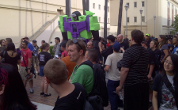 Hasbro's Official Transformers Facebook Page has updated with a preview page from the Transformers Collectors' Club Magazine's 2013 comic book.
Issue 49 of The TRANSFORMERS COLLECTORS' CLUB MAGAZINE kicks off the new year in a BIG way with the debut of a NEW team of Maximals led by Ultra Mammoth! The all-new ongoing comic story "Beast Wars Shattered Glass" is featured exclusively in the TCC Magazine. Check out the preview below. And for more information on the TRANSFORMERS COLLECTORS' CLUB be sure to visit http://transformersclub.com/
It would appear that the story takes place after the "A Flash Forward" epilogue comic (part 1 | part 2) - Classics Ultra Magnus, Ironhide, Silverbolt, Prowl, and Grimlock have landed somewhere in the Shattered Glass universe... possibly in the distant past.