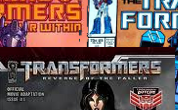 Signature Publishing have announced that they shall be releasing a second monthly Transformers comic in the form of Transformers Rescue Bots with the first issue set for UK stores on the 19th May 2017 priced at £3.99 and coming with a Chase car stunt set and 4-roll sticker box.
The magazine is aimed at the pre-school audience and is based on the animated show which averages 17,000 viewers across 600 plays on Tiny Pop; 76% above the channel average. The show is on par with My Little Pony for the station where it contirbutes 1/5th of the total views with 1.5 million children having viewed it since it's launch.
Danny Morris, Signature Publishing's Managing Director stated that "The Transformers franchise just keeps growing, with the launch of the latest blockbuster movie in June, while younger fans are egaging with the hit animated cartoon Rescue Bots" adding that "We are therefore delighted and honoured to be the first publisher, worldwide, to launch a standalone magazine for this fantastic extension to Hasbro's Transformers brand where, as always, storytelling is at its heart. With the viewing figures and toy sales for Transformers Rescue Bots speaking for themselves, this new magazine is sure to be a huge success!"