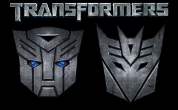 Michael Bay has updated his Flickr account with a new image titled "Just another day on the set of Transformers 4". You can view the image by clicking on the thumbnail below.

Pictured left to right:
Jack Reynor; Mark Wahlberg; 2nd Assistant B-Camera Casey "Walrus" Howard; 1st Assistant B-Camera John Kairis with back to camera; B-camera Operator Lukasz Bielan; Director Michael Bay; Director of Photography Amir Mokri.