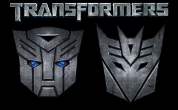 Los Angeles Times have posted a video with British model turned actress Rosie Huntington-Whiteley regarding the chances of Transformers 4 and whether she thinks that Shia LaBeouf could be pursuaded to return.
"We'll see about that," Huntington-Whiteley told Los Angeles Times, Monday at the Hollywood Awards, seemingly doubtful about LaBeouf's statement. Asked if the actor could be persuaded to return for another "Transformers," she replied: "I think so. He'll kill me for saying that."
You can view the video below.
­ ­