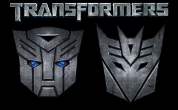 Nelson has posted some new information in regards to the "Transformers: Dark of the Moon" and Trilogy DVD/Blu-Ray releases on Muchael Bay's "Shoot for the Edit" site.
The first is just the movie.
The second is the 2-disc Special Edition set.
And the 3rd is the trilogy (6 disc) in a special metal encasement. There might be different versions of this across the globe.
That box in the form of the AUtobot logo is one of the early concepts for the the international trilogy. 
And
I though it was October for the regular set, and December for the different Special Editions. 
Click here
and
here
for the original posts