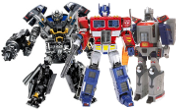 Thanks to two auctions on TaoBao we can bring you the profiles for the upcoming Transformers Dark of the Moon Toys R Us exclusive Mission Earth Scan Series figures.  This sub-line of Transformers: Dark of the Moon is based on the scenes where the Transformers "trans-scan" into the Earth based vehicle modes. The first figures to be released in this line are Sideswipe and Ironhide, who's profiles we can bring you, with the second wave being Bumblebee and Ratchet.  So here are the profiles.
Sideswipe: There are two things SIDESWIPE likes more than anything else in the Galaxy: Pummeling DECEPTICONS and fast cars. He chose to scan a vehicle that would allow him to enjoy both. He now arrives to the fight in a stylish, cutting-edge sports car ready to junk any DECEPTICON that dares put a scratch in his paint!
Ironhide: "IRONHIDE may be the most battle-hardened AUTOBOT. Countless encounters with the DECEPTICONS have taught him that the proper vehicle mode is essential to battlefield success. Trucks, he thinks, are the ultimate in vehicle mode superiority. And he`s just found one that rivets utility, durability, and performance together in one mean DECEPTICON smashing package."