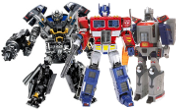 Hasbro have now held their Fan Event for the US Toy Fair 2013 which include a huge announcement of the biggest Transformers figure since Fortress Maximus, the 2 foot tall Titan Class Transformers Fall of Cybertron Metroplex! Metroplex will be a triple changer (like the original toy), based on the Fall of Cybertron design (there will be differences). He will be released in the fall of 2013 priced at around $125 and is said to be in scale with the Legend class figures. Click the headline to view all of the images.
Metroplex aside the other annonuncement, per line, were
Construct-A-Bots - Priced between $9.99 and $39.99
• Generation One themed Scout Class Ironhide and Starscream
• G1 themed Elite Class Wheeljack and Soundwave
• Blitzwing and Bumblebee will both be released as triple changers as well win "Ultimate Vs Set" of Optimus Prime and Megatron
Transformers Generations
• The figures will use a special Transformers 30th Anniversary logo and packaging for all 2014 releases.
• Hasbro have teamed up with IDW for the creatives behind the line
• The Deluxe Class figurs will come with comics and includeBumblebee, Megatron Jet, G1 Trailcutter and Orion Pax.
• Legends Class G1 Optimus Prime with Roller and Bumblebee with Blaster
• Voyager Class G1 Triple Changers Springer and Blitzwing
• Transformers Platinum Edition Ultra Magnus with the "Forge of Solus"
• Transformers Platinum Edition Grimlock vs Bruticus
• Confirmation of the Transformers Masterpiece Acid Storm which was reported by Ozformers a while ago.
• Confirmation of a US release for Transformers Masterpiece Soundwave - with ALL of the Cassettes (Ravage, Rumble, Frenzy, Buzzsaw, and Laserbeak)
• Titan Class Fall of Cybertron Metroplex

Transformers Kre-O
• Micro Combiners
• Beast Hunters Optimus Prime, Bumblebee, Trailcutter, Ripclaw
• Micro Changers including Kickback, Guzzle, Huffer, Nemesis Prime, Ramjet, Sharkticon, Nosecone, Blot, Bombshell, Acidwing, Bulkhead, Groove, Arcee, Powerglide, Scourge and more
• Micro Change Combiners including Defensor, Piranacon, Abominus for Fall 2013
• Autobot Kreon Command Center
• There will also be some customisable Transformers Beast Hunters Kreons who will come with metal pieces. The figures wil feature Optimus Prime, Bumblebee, Ironhide, Megatron, Starscream and Soundwave.
Images thanks to T16skyhopp