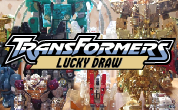 Having spent a few months and a lot of money acquiring back issues of TV Boy, TV Magazine, Hyper Hobby and Comic BomBom, we are very excited to be able to confirm the existence of a previously unreported Lucky Draw Transformer. The figure was given away in the December 2007 issue of TV Magazine and was limited to just five pieces. The toy is a gold chrome version of Transformers Movie Protoform Starscream.
As it the norm with TV Magazine end-of-year draws, lots of toys were given away in gold chrome and plastic versions. There were three Transformers figures included in the draw comprising of a gold chrome Voyager Optimus Prime (limited to 3), a gold chrome Protoform Optimus Prime (limited to 5) and the gold chrome Protoform Starscream (limited to 5) mentioned above.
The Voyager Optimus Prime figure had previously been seen right here at Transformers At The Moon and LuckyDrawTransformers.com, though we believe that the version of the figure that we own is actually a testshot of the final production piece. The gold chrome Protoform Optimus Prime has not been seen before on the internet, as far as we know, although we did report its existence earlier this year.
The images that appeared in TV Magazine are not of the final production pieces, therefore there is currently no way of knowing exactly how the final pieces turned out. The figures would have been released to the winners in March / April this year, around the time that that Voyager Optimus Prime toy first appeared.