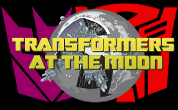 Transformers At The Moon, in association with Paladone Products, are pleased to announce that we are opening a new competition right now where you can win a collection of Paladone Transformers licensed products including


1) Transformers G1 30th Anniversary Mini Figures
2) Transformers Prime 30th Anniversary Mini Figures
3) Transformers Movie (Dark of the Moon) 30th Anniversary Mini Figures
4) Cardboard Optimus Prime build a figure
5) Cardboard Bumblebee build a figure
6) Optimus Prime water bottle
7) Autobot logo cup
8) Heat changing Autobot logo cup
Entry to the competition is easy, you simple need to Tweet the message "Transformers Collections" to us, @transformertoys, including the Hashtag #TFComp.
An example of a valid entry would be the tweet "@transformertoys Transformers Collections #TFComp".
The winner will be chosen via a random draw after the competition has closed. Entries will be accepted up until Tuesday 27th May 2014 at 12:00 BST. After which any entries shall be discounted.
You may only enter the competition once, so duplicate entries will be ignored. Fake twitter profiles will also be ignored. Please see the Twitter Guidelines on Competition entries which we shall be following.
Click on the news story title or scroll down to view individual images of the competition prizes