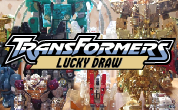 Singapore Transformers fans will be best advised to head downt o Toys R Us for a special Age of Extinction launch night where one lucky winner (well the person who spends the most amount of money) will be able to win a gold chrome Transformers: Age of Extinction Leader Class Optimus Prime who will come complete within a display case much like previous Transformers Movie "lucky draw" figures
1. "Lion City Roars for Grimlock" App
In order for the mighty Grimlock to emerge, we need to collect one million decibels worth of roars. To help in this quest, fans and their friends can submit their loudest roars via the Facebook mobile application titled The Lion City Roars for Grimlock.

2. Transformers Toy Madness @ 2200
Kicking off the festivities is the TRANSFORMERS: AGE OF EXTINCTION Toy Madness @ 2200 event. Starting from 10pm on Friday, 16th May, fans of all walks can join in the excitement at Toys'R'Us Forum and be the first to own the figures from the TRANSFORMERS: AGE OF EXTINCTION movie. Fans can also revel in fun-filled activities such as putting their skills to the test in a race against fellow fans to convert TRANSFORMERS figurines; and have their photos taken with their favourite Transformers characters. What's more, the top spender of the night will win a Gold-Chrome Transformers 4 Optimus Prime Leader (with display case), limited to Toys'R'Us Star Card members only.

The Transformers 4 Platinum Edition Optimus Prime and Grimlock, available only at Toys'R'Us, will be launched at this event. Fans who purchase this item during the event will stand a chance to receive a pair of TRANSFORMERS: AGE OF EXTINCTION movie tickets, a Transformers paper bag and movie poster, along with Miniature 2-inch Optimus Prime Then & Now metal figures.