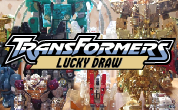 Linkin Park, known for their musical contributions to the Michael Bay Transformers Movies, posted a blog update of the upcoming Linkin Park Edition Soundwave with official images. This is what the band has to say:

"Linkin Park and Hasbro are collaborating on a super-limited LINKIN PARK EDITION SOUNDWAVE. It's a new and exclusive model based on the original 1984 toy, the one I grew up playing with. It includes Lazerbeak, Buzzsaw, and Ravage. There will only be 2000 units, available at SURU and comic/hobby shops.

Hasbro is currently showing a sample of it, inside the Transformers booth at Comicon. Here are some pics from Les, the designer. Shout out to Mr. Hahn for overseeing it's golden glory on our end (no, it's not real gold).

The LINKIN PARK SOUNDWAVE will be available later this year."