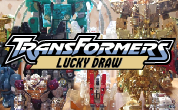 We have added out latest
Toy Gallery
to
Transformers @ The Moon
, and he is yet another rare Japanese Lucky Draw toy. This time he is the
TV Magazine Lucky Draw Gold Magmatron
that was given away in a prize draw back in 1999. That draw was
probably
limited to 1 or 2 pieces of the Gold Magmatron's and was the same prize draw that saw the Black Magatron and Blue Big Convoy toys. The gallery is a world first, and takes the number of full size images just within our Toy Gallery section even closer to the 16,000 mark, probably the most for any Transformers fan site.
Due to the number of images that need ot be taken to do this toy justice, we have decided to split the gallery into parts. Today is Part 1 which contains 97 pictures of the toy in his box as well as in the indivdual animal modes.
Remember to check back for the next part of the gallery, as we still need to photograph
TV Magazine Lucky Draw Gold Magatron
in combined beast form, robot mode as well as comparisons to the original.