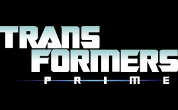 I have updated ­Transformers-Prime.com with a high-resolution image gallery of stills from the Transformers Prime TV trailer that aired over night on Facebook.  The gallery contains 47 images at 1920x1080 pixel taken from the HD stream of the trai­ler.
When navigating the gallery you can use the cursor (arrow) keys to browse between images as well as jumping from a scaled to the full size image.  Simply follow the on screen instructions on Transformers-Prime.com for more.
The image gallery is also available Transformers At The Moon, though without the nice navigational controls.
Transformers-Prime.com is a dedicated fan-site to the new Transformers series from the brothers that bought you Transformers At The Moon and TransformersAnimated.com