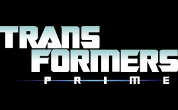 According to
TV Tango
,
Transformers: Prime
will premier on
The Hub
on Friday November 26th at 4pm with the episode Darkness Rising Part 1 (of 2).
Roll out with Optimus Prime, Bumblebee, Arcee, Ratchet, Bulkhead, and the rest of the heroic Autobots as they battle the evil Decepticons. Now that big bad Megatron has returned with a mysterious and dangerous element, Team Prime must prepare for an epic battle. But that's not so easy when they have to guard over Jack, Miko, and Raf -- three normal kids who've accidentally discovered the Autobots. As Team Prime works to defend Earth from destruction, the drama gets just as intense as the heavy metal action.
Tune In : November 2010 Rating : TV-Y7 (FV)"
Credit to HISS Tank.com