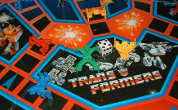 Amazon have published a trailer and indepth description of the Covenant of Primus book
which will be released at the end of the year. You can order the book by clicking on the previous link.
Book Description:
The Covenant of Primus delves into the depths of Transformers mythology to reveal the backstory that's previously only been hinted at.

Encased in an interlocking Autobot emblem that when pulled open emits Transformer sounds, this tome is a gift to humans from Alpha Trion, one of the ancient Thirteen Primes—the first of the Transformers. Little is known about Alpha Trion, and the rest of the Thirteen Primes have been shrouded in mystery—until now. The Covenant of Primus reveals the stories of these ancient heroes for the first time. It chronicles the saga of Optimus Prime and Megatron and covers the full history of the Transformers. Never-before-seen illustrations depict battles, portraits of the Thirteen Primes, and detailed scenes of the Transformers' world. Offering insight into their origins, the Golden Age of exploration, the great civil war between the Autobots and Decepticons, and much more, this book is the definitive in-world history of the Transformers.

Product Features:
Autobot shield case with three-part interlocking manual opening system and three classic Transformers audio effects
Hardcover book with newly commissioned cover art, 20 newly commissioned illustrations, and many never-before-seen images from the Hasbro archive

Release Date: December 10, 2013
Hardcover: 176 pages
Publisher: 47North
Language: English
ISBN-10: 1477805990
ISBN-13: 978-1477805992

About the Author
Justina Robson was born in Yorkshire, England in 1968 and grew up watching the original Transformers TV series. After completing school, she dropped out of Art College, then studied philosophy and linguistics at York University. She sold her first novel in 1999. Since then she has won the 2000 Amazon UK Writers' Bursary Award. She has also been a student (1992) and a teacher (2002, 2006) at the Arvon Foundation in the UK, a center for the development and promotion of all kinds of creative writing. She was a student at Clarion West, the US boot camp for science fiction and fantasy writers, in 1996. Her books have been variously shortlisted for the British Science Fiction Best Novel Award, the Arthur C. Clarke Award, the Philip K. Dick Award and the John W. Campbell Award. An anthology of her short fiction, "Heliotrope," was published in 2012. In 2004, Justina was a judge for the Arthur C. Clarke Award on behalf of the Science Fiction Foundation. Her novels and stories range widely over science fiction and fantasy, often in combination and often featuring AIs and machines who aren't exactly what they seem. She still lives in t'North of England with her partner and three children and a cat.