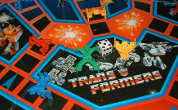 A new event day has been announced for Transformers Legends players called Day of the Dinobots. Here is a copy of the announcement
"TRANSFORMERS Legends players:

Like this post if you'll be playing Day of the DINOBOTS: Part I on 4/4!

What's new with today's update?
Space Bridge has been overhauled
-Players can now cash in Gold and Silver medals acquired from the first event! They have been converted from Episode medals to regular Warrior medals.
-New banner art, and a card 'carousel' which shows you a sample of what you could win

Allies functionality updated
-Search will now find players with power equivalent to you
-Cheering has been updated, you can now cheer your allies once per day for 10 points apiece.

Plus...
-Tap to dismiss full screen cards is back
-Many backend bug fixes and optimizations
-Day of the Dinobots Pt. 1 coming on April 4th, 5:00pm PST! "