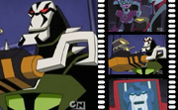 Autobase Aichi have published details on the May 2014 issue of Hyper Hobby Magazine. Below you will find a list of the main features of this months issue


Introduction of the Premier Edition Optimus Prime which shows the giant Optimus Prime illustration that is currently outside of the TakaraTomy headquarters.
Generations News. The "Mini-con Assualt Team" will be released in March along with Armada (Micron Legend) Starscream who is recoloured from the Western release.
MP-13B Sound Blaster is shown but with very little product details though some of the addtional parts such as the Megatron blaster and Energon cube have been recoloured. For example the energon cube is red rather than purple.
Transformers Cloud Brawn and Starscream are introduced within the current publication.
There is a report from the Winter Wonder Festival including a separate report on Mega Drive Megatron and Uni-Metal Optimus Prime.
Finally a short showcase on the new Transformers iPhone 5 case is also published.