11-04-2010, 11:50 PM
GALVY
Senior Member


Posts: 349
Joined: Aug 2008
Reputation: 0

Re: IDW Transformers Comic Discussion - Spoilers Within
---
drift 2 and 3 did little for me. you can almost see where the series is going to end up. would be nice if there was a huge twist , say , drift dosnt stick around to help at crystal city , and this isnt the story that sends him to the autos. cant see that meself. ongoing is ticking along slowly. visually great, story weak. to much human interaction. and will somebody put prime back in charge???
must give a shout out to the sector seven series. picked up issue 1 and 2 and was actually impressed. some glaring errors but the comics move along nice and fast. a good read to be fair.
---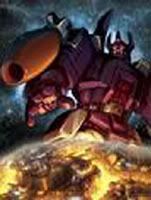 IM NOT MAD, IM LOVEABLE!!

User(s) browsing this thread:
1 Guest(s)
Return to Top
Return to Content