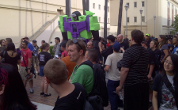 So yesterday saw the curtain close on the Auto Assembly convention, for now, after 15 years (but not 15 shows). For many fans this is a strange and unknown moment. For those of us "older" fans we remember other UK conventions including Transforce, Botcon Europe, OFTCC Europe, as well as the two that never were, Decepti-con and Transformations. Show's come and go but no UK show has has the longevity, scale and success of Auto Assembly. Yesterday the show ended with an official figure of 1061 tickets, the first time thhat any European dedicate show has passed the 1000 mark. For those who claim that the true attendance figure was below 1000 as someone who was on the registration desk through out the weekend I checked the list numerous times and whislt just over 40 passes were not collected over 1000 different people did attende the event over the weekend. Not all could be there for the end, which is a shame, but you just have to look at the photographs and videos from the opening ceremony to see that the new hall was packed.
Several of the panels in the alternative rooms were full to the brim over the weekend as well which was great to see.
Whilst no future Auto Assembly conventions have been announced the brand will continue with a new YouTube channel starting soon which will host vidoes from the event, and we assume previous events as well, it will continue to produce a fanzine as well as organise meets in Cardiff and, as was announced yesterday, probably Birmingham as well.
For those looking to the future for shows to try to fill the gap, there is the Transformers / G.I.Joe / Action Force / Masters of the Universe show Roll Out Roll Call coming up in October this year in Southampton, various pub meets across the country and TFNation 2016 next Summer (dates to be announced shortly). Whilst neither of these events are expected to simply take over from Auto Assembly, they are other chances for simliar experiences and we encourage everyone to go and also to look to organise meets in your own areas. They are great ways to make new friends.
Our first Auto Assembly was over a decade ago and whilst we have helped out the convention over that time with displays, financing guests, organising volunteers, marketing, running stands etc, watching the show grow from 200-300 people to over 1000 has been a pleasure. We have always maintained that UK shows could have over 1000 people and still maintain an friendly, intimate. Many doubted it including organisers, it was nice to finally see that be true.
Much like Auto Assembly for Simon and Trish, the pressures of "real life" have taken its toll on my brother and myself. For us it has manifested itself in this website being horrible out-dates visually, as well as us falling way behind in terns of fresh content and news. We hope to correct this though as we still have plenty of content to share with you all including things you have not seen before. But that is for another time.
Right now we would like to thank Sven, Simon, the committee members (from all periods), the wonderful voluenteers, the guests, the artists, the dealers, the hotel staff and, of course, the attendees. Everyone has helped the UK create one of the global showcase Transformers events of the year and it has been an most enjoyable ride, we hope that you have all enjoyed it too.