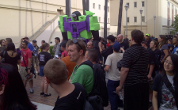 Let's go back in time to Auto Assembly 2005 and some grainy footage we recorded from the event. I don't even remember which video camera we had at the time but it was probably still a tape one.
You'll no doubt recognise some of the traders and guests including Neil Kaplan, Simon Furman, Andrew Wildman, Simon Williams, Jason Cardy, The Space-Bridge, Geekology, Xyber Toys and of course the gents running the show Sven Harvey and Simon Plumbe.
The venue no longer exists, the Clarendon Suites but the memories remain.
It was the first year we put on a display at a convention, something that continued through until 2016 when we stopped. Maybe we'll start doing some again. At that event we bought along our Lucky Draw figures along with the lunchtime specials.
By 2009, when we last put on a Lucky Draw display, we needed to hire two large cabinets whereas then we uses two small custom cases which we still have kicking around somewhere